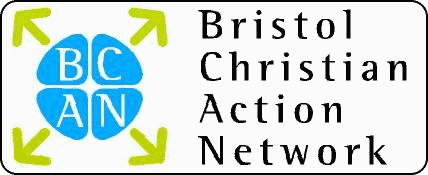 BCAN (Bristol Christian Action Network)
Helping Christians Respond To Social Needs
BCAN
Coordinator Job
Appointment
We are pleased to announce that Colse Leung has been appointed to this post, starting on 1 March 2009. Please pray for Colse in this challenging role.
The Job Advert
Introduction
BCAN is looking for a Coordinator who can work for 7&frac12 hours (one day) per week to support our core activities and further develop the organisation.
We are looking for a person who is experienced in building relationships and with experience of church/community development work or a similar role.
Background
BCAN is a key body in Bristol and the surrounding areas that exists to promote and encourage all social action ministries across all the Christian churches regardless of their size.
BCAN aims to support leaders of churches and ministries, but also 'ordinary' members of congregations who might have a calling to participate in initiatives that are not part of their own churches' immediate priorities.
Details
The post is initially for 12 months, but our hope and plan is that it will be extended beyond that.
At least one office base will be provided by BCAN with access to IT and other equipment, although the successful condidate may prefer to work from home some of the time.
Further information, including a full job description and person description, is available from Vena Prater at CCISR.
Salary: £25,000 per annum, pro rata.
How to Apply
Please send to Vena Prater at CCISR:
your CV; and
a covering letter describing how you meet the requirements of the job.
Closing date for applications: Friday 16 January 2009.
PLEASE NOTE THAT INTERVIEWS WILL BE HELD ON WEDNESDAY 21 JANUARY 2009.
Contact
The best way to contact Vena is by sending an email to: Vena at CCISR.
Alternatively, you can telephone her on 0117 955 7430.
---
This page last updated: 23 February 2009
Copyright © 2009 BCAN
---
Display this page with the navigation bar
All material on this site is copyright. You are welcome to create a link to this page or to print it for your personal use, but if you would like to use some or all of it in any other way, please
contact us
first.
---
Page counter at 07:43 on 30 November 2020