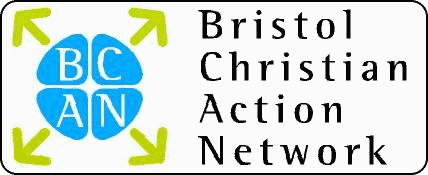 BCAN (Bristol Christian Action Network)
Helping Christians Respond To Social Needs
Web Site Information
Contact Us
Introduction
We very much appreciate hearing from you. We are especially keen to hear from you if you would like to:
provide feedback about this site,
ask us a question,
make a suggestion,
invite us to speak at a meeting,
give us some money, or
tell us some news you think will be relevant to our work.
You can contact us in several different ways.
Post
You can write to:
The BCAN Administrator,
Abbeywood,
57 Avon Way,
Bristol,
BS9 1SL
Telephone
You can telephone:
Mobile: 07816 893 676
Email
You can send an email message to:
Form
Or you can fill in the feedback form:
---

This page last updated: 26 January 2015

Copyright © 2015 BCAN

---

Display this page with the navigation bar

All material on this site is copyright. You are welcome to create a link to this page or to print it for your personal use, but if you would like to use some or all of it in any other way, please

contact us

first.

---

Page counter at 17:14 on 7 August 2022