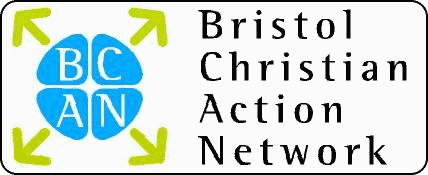 BCAN (Bristol Christian Action Network)
Helping Christians Respond To Social Needs
Bristol Homeless Forum
Public Launch
Introduction
Since its first meeting in September 2001, the BHF has operated as an informal network and a 'Community of Practice'. Towards the end of 2004, we decided to establish a membership system and to plan a 'public launch' in the Spring of 2005 where we could publicise the work of the forum and its members, and celebrate what has been achieved so far as well as attracting support for our work.
Details
The Event
The launch event took place in the elim@bristol auditorium on Jamaica Street from 6 - 8 pm on the evening of Friday 15 April 2005. (Map)
We plan to make details of some of the talks available shortly.
The basic plan for the evening was:
6:00 - Light refreshments
6:45 - "Homeless in Bristol" - a few short talks by guest speakers
7:30 - Meet the members
Documents
Val Jeal gave the keynote address, and Olly Alcock spoke on behalf of the Council.
Olly Alcock: The housing situation in Bristol (PowerPoint).
The three 'membership pack' documents here are slightly updated from the versions sent out to the BHF mailing list early in February 2005.
Introduction and background:
---
This page last updated: 26 January 2008
Copyright © 2008 BCAN
---
Display this page with the navigation bar
All material on this site is copyright. You are welcome to create a link to this page or to print it for your personal use, but if you would like to use some or all of it in any other way, please
contact us
first.
---
Page counter at 17:49 on 7 August 2022