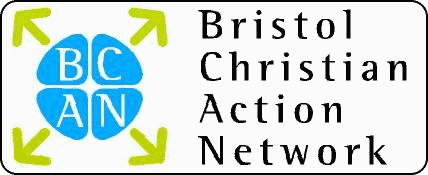 BCAN (Bristol Christian Action Network)
Helping Christians Respond To Social Needs
Global Issues Forum
Overview
Introduction
The BCAN Global Issues Forum is open to anyone in Bristol who is interested is understanding and responding to the serious issues facing our planet and the people who live on it.
We have produced an introduction to the Global Issues Forum, describing something of the work we have done so far and what we are aiming to do.
There are many web sites devoted to global issues. Here are some of particular interest to people in and around Bristol.
We aim to hold three meeetings of the Global Issues Forum each year.
Some of the local news concerning global issues can be found here.
---
This page last updated: 5 February 2008
Copyright © 2008 BCAN
---
Display this page with the navigation bar
All material on this site is copyright. You are welcome to create a link to this page or to print it for your personal use, but if you would like to use some or all of it in any other way, please
contact us
first.
---
Page counter at 08:37 on 30 November 2020