Purpose
To encourage Christians (including youth) in the Bristol region to express more of God's heart to bring good news to the poor globally, through prayer, evangelism, social action and campaigning for justice.
To provide a network to help them to work together with different organisations and churches to achieve this.
To raise the profile of smaller organisations working in the Bristol region, as well as larger national organisations, so we can encourage each other to see God's kingdom come.
The Forum
The forum first met in January 2003. It is steered by Janet Mills (Woodlands and TEARfund), Mike Ogborne (Blythswood Care and Cornerstone), Paul Tipler (Bristol Christian Fellowship (BCF) and Aspire), and Roger Allen (BCF and Christian Aid).
The forum comes under the umbrella of the Bristol Christian Action Network (BCAN) and, so works closely with Paul Hazelden and Stephen Abbott.
The group consists of:
Members of Bristol churches, who want to raise these issues (including information about their church's overseas links) and encourage action in their churches.
Members of organisations involved in global issues, such as TEARfund, Eurovangelism, Christian Aid, Blythswood Care and Aspire, who also have numerous suggestions for action.
Members of groups already involved in these issues and arranging events, such as BCAN, North - South Forum, Trade Justice Movement, Jubilee Debt Campaign and the Bristol and South Gloucestershire Fairtrade Networks.
Members involved with ICQ (evangelism through social action) and the Bristol Prayer Wall.
Action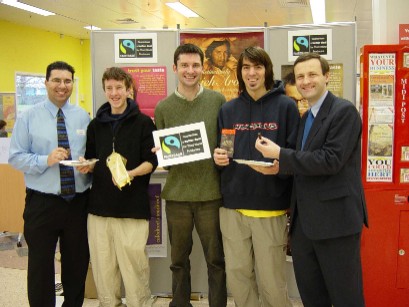 In the lead up to Fairtrade Fortnight in the first two weeks of March, the group helps spread information about the issues and how individuals and churches can get involved and take part in events in the Bristol region, such as manning stalls in supermarkets.
Networking (whether face-to face or through email discussion or website) and sharing of information to help raise the profile of events (such as the Fairtrade Christmas Fair at Cairns Road Baptist church) and enable churches to get involved
Many churches are involved in summer campaign events as part of the Trade Justice Movement. All over the Bristol region, for example, there were "Picnics in the Park" to lobby MPs for more justice in global Trade.
Many churches were involved in the Autumn collecting boxes of goods to send to Eastern Europe, through the Kingsway Aid Project, Eurovangelism and Blythswood Care.
The group meets three times a year, at the Upper Hall, Woodlands Christian Centre, in January, April and September.
To find out more please contact Roger Allen on 0117 950 5006 or email him at rallen@christian-aid.org.