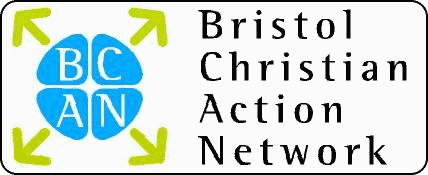 BCAN (Bristol Christian Action Network)
Helping Christians Respond To Social Needs
FareShare
FareShare Introduction
FareShare is the national charity that redistributes quality surplus food from the food industry to organisations working with homeless and vulnerable people in the community.
We currently have 8 FareShare schemes operating in partnership with local charities across the UK: London, Brighton & Hove, Dundee, Edinburgh & Lothians, West Yorkshire (Kirklees), Manchester, Southampton and South Yorkshire (Barnsley).
By working in partnership with over 100 companies, FareShare redistributed 2,000 tonnes of quality food to 250 local charities across the UK in 2003. This contributed to over 3.3 million meals, which helped improve the health and well being of over 12,000 homeless and vulnerable people.
FareShare aims to achieve more than just feeding people. The money saved by local agencies, which receive the food, is used to provide other support services such as training, medical services and counselling which help people start to rebuild their lives. Our 2003 National Impact Survey showed that over 60% of the recipient projects could now spend money on other services. 84% of these projects also indicated they can now regularly provide a wider range of healthier food.
Latest News
November 2007: the project is up and running.
If you would like to volunteer to help, please contact:
Suzie Webster
Project Manager, FareShare South West
Unit 4a Templegate Park
Mead Rise
Bristol
BS3 4RP

Tel: 0117 971 1005
Web Site
More information about FareShare in Bristol ('FareShare South West') can be found by visiting the web site:
Documents
Meeting Notes:
Other Documents:
Links:
---
This page last updated: 29 September 2009
Copyright © 2009 BCAN
---
Display this page with the navigation bar
All material on this site is copyright. You are welcome to create a link to this page or to print it for your personal use, but if you would like to use some or all of it in any other way, please
contact us
first.
---
Page counter at 08:14 on 30 November 2020